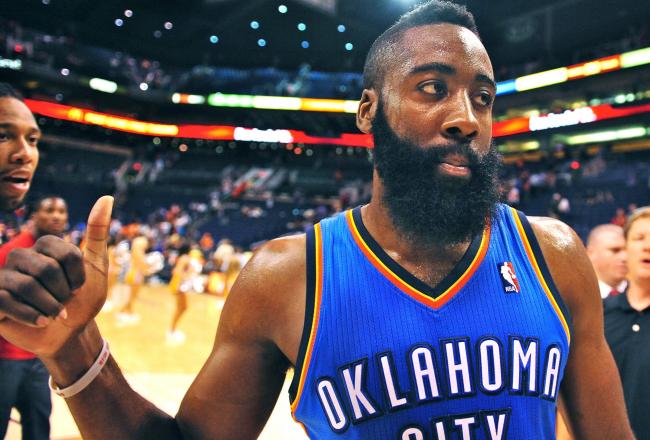 It was a normal Saturday night in the life of Scott, I had just come home from the Cornell hockey game earlier that night and was jamming to good kid, mAAd city (on loop for the past week in my household) when an ESPN alert popped up on my phone that changed everything.
Everything.
*******The Oklahoma City Thunder have traded James Harden, Cole Aldrich, Daequan Cook, and Lazar Hayward to the Houston Rockets for Kevin Martin, Jeremy Lamb, 2 future 1st round draft picks, and a future 2nd round draft pick. ********
Two days have passed and I still hate this trade so much I can't even write a structured, coherent post about it. So instead, I'm going to start ranting on why I hate this trade with a passion, completed with some loose explanations and a lot of angry bold words…
(For those who don't know the full story behind the trade, here's a quick recap: Harden was up for contract extension, wanted a max contract, Thunder didn't want to pay a max salary for Harden and also pay the luxury tax aka $1.50 for every $1 over the salary cap, so they traded him… and just like that, the beard was gone forever.)
First off, the Thunder brain-trust (owners AND front office) just broke up a team on the cusp of a championship.
Not only is that type of move completely unprecedented, but it sends a hugely disheartening message to the fans, along with basically declaring to the rest of the league "Sorry guys,  but the Heat and Lakers are too good right now. Instead of trying to win, we're going to focus on turning profits and maybe seriously go for another title again in 6 or 7 years". 
From the way I'm looking at it, it looks a lot like the Thunder just sacrificed a possible championship right now, plus up to 5 years of Durant, Westbrook, and Ibaka's prime.
So, if the Thunder end up winning back-to-back titles in 2019-2020, maybe I won't be so pissed about this trade. But who knows? In 5 years, Perkins' knee can completely fall apart, Ibaka might not develop into a legit offensive threat, Eric Maynor will probably be long gone, Kevin Martin/Jeremy Lamb will be remembered as "that guy we traded Harden for", Westbrook and Durant could beef, and perhaps most importantly/frighteningly the Heat and Lakers will have won 5 titles in a row.
A lot of this trade is riding on the fact that the Thunder will be in a similar position five years from now, which I'm not too optimistic about considering the owners are starting to give the impression that they are only willing to spend a certain amount of money on the team's success.
Basically, the team has gone all in on the hope that Perry Jones III, Jeremy Lamb, and those future draft picks will equal Harden's production over these next couple years (I have my doubts) and that in 5 years after the Lakers have aged and the Heat have cooled down, then the Thunder will be primed to rattle off consecutive titles.
If that happens, I'll look back at this trade as a necessary step to victory, but if those championships never develop… I don't really want to think about it. 

And right now, I don't really love the idea of trading a championship now for a championship later. I wanted the Thunder to win or lose with this team. I look at the Thunder team now and the team that I first started religiously following a couple seasons ago and the only similarities I see are KD, Westbrook, Collison, Thabo, Ibaka…and that's it. Don't get me wrong, I don't miss Nenad Krstic at all. The 2012 team is undoubtedly better than that 2009 squad, but for the first time in the franchise's history, the Thunder won't be as good as they were the season before. That's just a new feeling to stomach for Thunder fans.
This trade is without a doubt our "welcome to the NBA" moment, but honestly, this whole process has felt more like a punch to the face.  
Having gotten that out of my system, here's the few things I do like about the trade:
I have a sneaky feeling Presti knows something we don't. Like how he may or may not have known about Jeff Green's heart problems.
I liked what I saw from Jeremy Lamb playing off the ball his freshmen year of college with Kemba Walker (homeless man's Westbrook) as his PG. Should fit nicely into the Thunder's system.
If the Thunder had to trade Harden (which they didn't), the deal they got back was pretty good. Next to a trade straight up for Anthony Davis, it was actually the dream scenario for a return (immediate offensive help, quality player on a rookie deal, draft picks).
That's it.
Ok, enough with the hate.
Time to say a quick thank you and a final good-bye to my 2nd favorite Thunder player of all-time and a man I proudly display on the Scottgt Pepper, James Harden.
Thank you, James Harden for all the good times off the court. You know that all-white-everything yacht party you threw just because you could (my invite must've gotten lost in the mail)? Or THE footlocker commercial?

And of course, who could forget, fist-bumping Kate Utpon (KATE UPTON!!!).
So baller.
(Btw, "Count in your head!" kills me every time).

But more importantly, thank you, James Harden for all the good times on the basketball court. Specific moments that stand out in my mind include that time you trashed-talked Kobe, that time you put a dagger right through the Spurs playoff hopes, that time you made JJ Hickson look straight-up foolish, and lastly, that insane Game 4 vs the Mavs when you went off for 29 points in 15 minutes.
Harden, Westbrook, and Durant standing arm in arm after the Thunder lost to Heat in the Finals this past season.
It's an absolute shame that the above picture is the last memory  Thunder fans will have of Harden. I remember watching that moment feeling extremely disappointed that the Thunder had lost the series, but at the same time I could not help but feel good about the potential dynasty that was starting to formulate around those 3 guys standing arm in arm, who all cared so much about winning together.
So much for that.
ugh.
I'm going to miss the beard.